May 29, 2018
The Client's Challenge
An insurance defense firm needed to schedule a court reporter in Ireland for a deposition, and time is of the essence. The attorneys would not have enough time to travel, is it possible to depose the witness in Ireland with the attorneys participating remotely from the US?
Our Solution
We mobilized our locally-based court reporter to Cork, Ireland to administer the oath. We used one of our conference rooms and provided a remote connection with our web-based solution – DepoAnywhere™. An excellent option when our clients are in difficult time constraints.
The connection was crystal clear during the entire deposition and everything went smoothly without any interruptions or complications.
That's one happy client!
Exclusive International Depo Guide for Ireland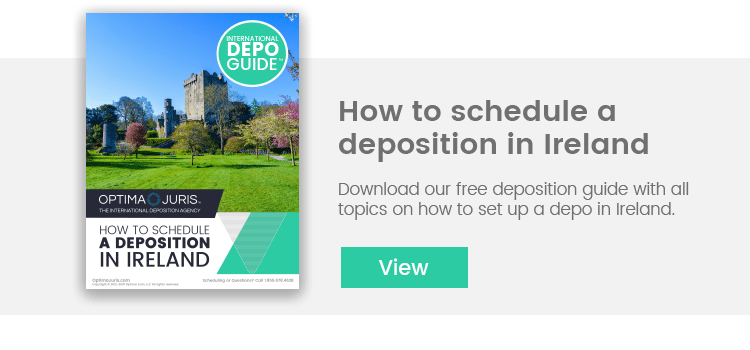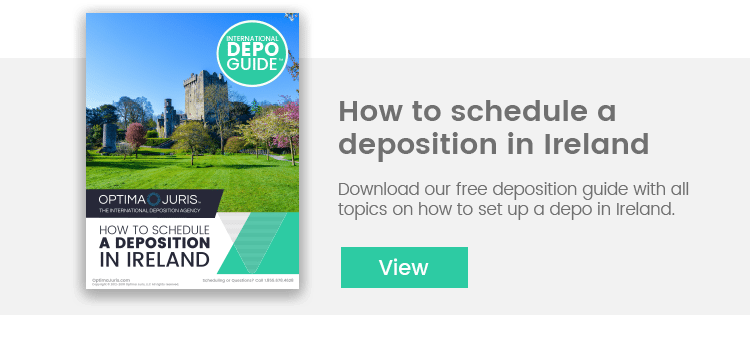 About Optima Juris
Optima Juris is the only U.S. agency exclusively dedicated to international depositions. We have been helping law offices across the globe find the highest-quality certified court reporters, legal videographers, and interpreters for over 18 years. If you should have any questions about international depositions, please do not hesitate to contact us or fill out a free quote to see how we can make your international deposition a complete success.
Follow us on social media for news, advice, info, and tips about international court reporters, interpreters, and language services:
Linkedin: https://www.linkedin.com/company/optima-juris
Twitter: https://twitter.com/optimajuris
Facebook: https://www.facebook.com/optimajuris
Google+: https://google.com/+Optimajuris
Tags: Ireland court reporters, deposition court reporters in Ireland