Optima Juris LLC will not share your information with any outside parties.
Say hello to our team of Global Deposition Experts
We are here to make sure all your international deposition needs are met and to give you peace of mind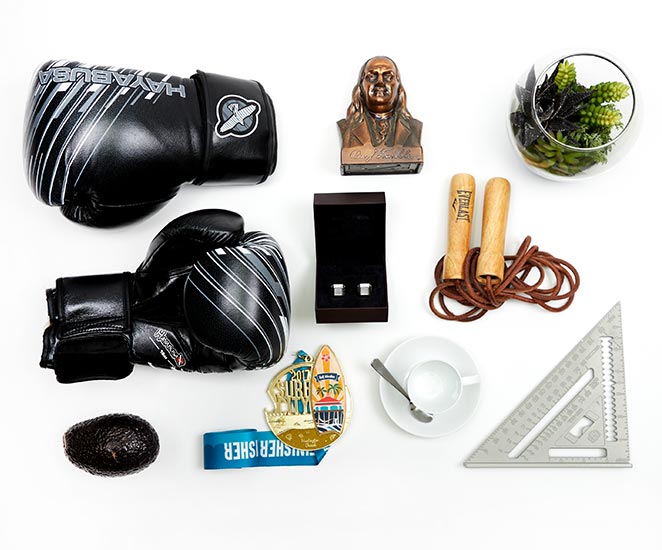 Ian Hardy
CEO & President
Boxing gloves:  Facing an opponent in the ring teaches focus, relaxation, and mastery of fear.
Benjamin Franklin: The self-styled archetype of American entrepreneurship and ingenuity.
Pot of Succulents: It's more beautiful to stay green and live in harmony with one's local environment and seasons (French concept: terroir). Please ignore the fact that this one is made of plastic.
Dunhill cufflinks: Elegance. Also an old James Bond product placement which successfully manipulated my consumer behavior, in part by being more affordable than an Aston Martin.
Jump rope: Jumping around in one place, expending great effort, all while trying to keep one's balance: this is running a small company. The trips and tangles will decrease with practice, but never completely go away.
Avocado: Because healthy should always be tasty.
Half-marathon medal: Live to run, run to live.
Espresso cup: Caffeine is the fuel that helps capitalism's servants keep pulling at the oars. Balzac felt it fueled inspiration. Must always be served strong, with a saucer and small spoon.
Speed square: Hands-on, precise, tried-and-true: get it done.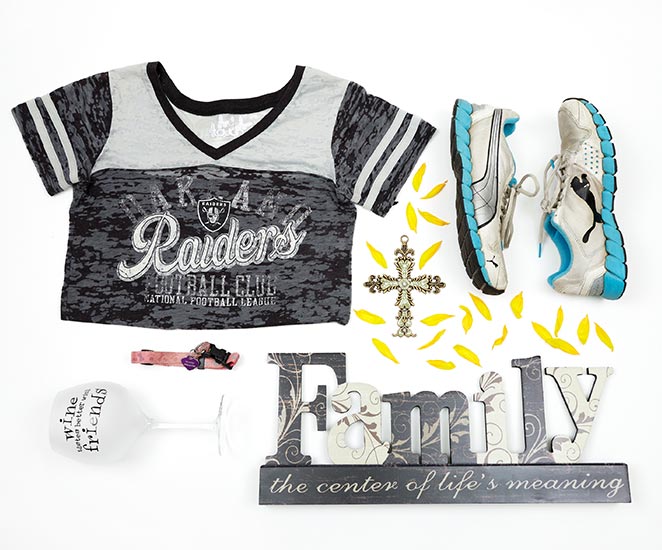 Kimberlee Castro
Director of Scheduling
Raiders shirt: Just Win, Baby!
Walking shoes: Walking provides me with peace and I love being in nature.
Cross: I am blessed!
Family: My family provides me unconditional love and support. They are my life line.
Dog collar: My fur babies are the cutest fur babies on the planet.
Wine glass: I just want to drink wine and pet my dogs.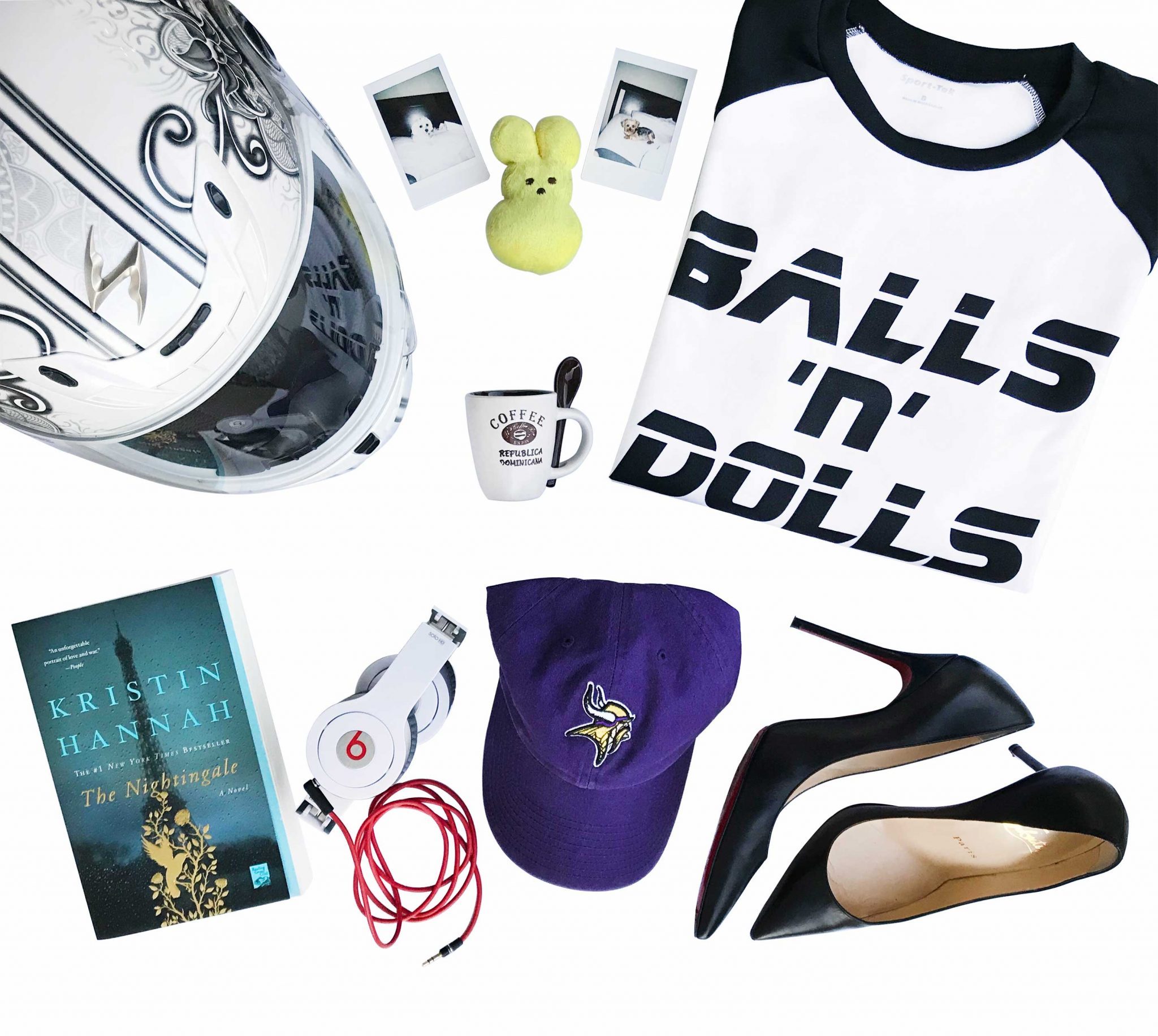 Ironey Sivongsay
Office Manager
Helmet: I like adrenaline rushes! At one point, I was learning how to ride.
Photo of dogs: My dos, I just love them!
Kickball Jersey: I've been in a kickball league with my close friends for over 5 years.
Book: When I'm not looking for a rush, I like to relax and read.
Coffee Cup: This is a two for one – coffee and traveling, two things I enjoy.
Headphones: Because music is my life. It sets my everyday mood.
Viking hat: It's tough being a Vikings fan but it's my home team.
Heels: I have a bad shoe addiction!
Chanel Schiratis
Global Deposition Assistant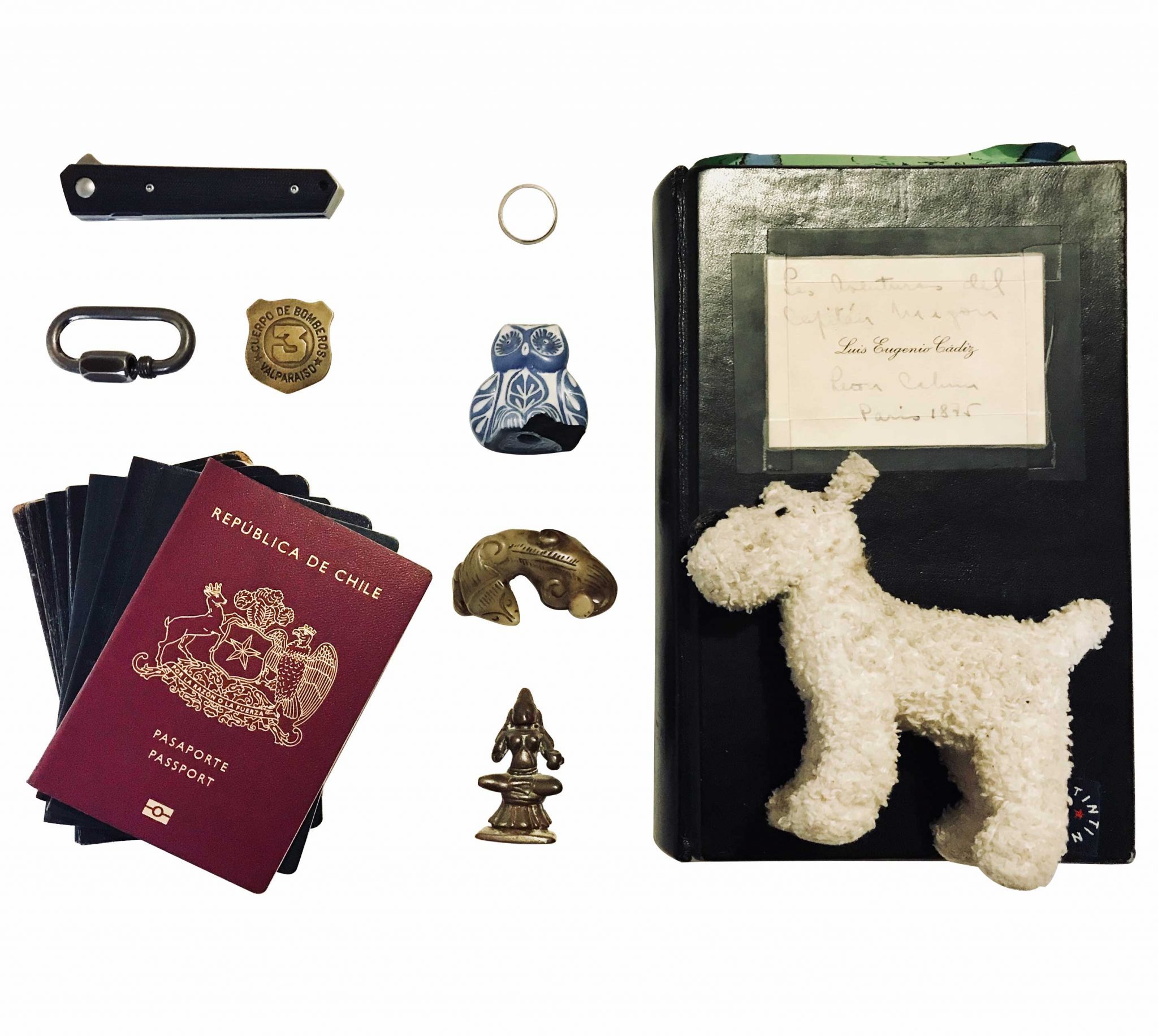 José Cádiz
Interpreting & Language Specialist
Pocket knife: Never leave home without one since my father gave me my first at the age of six.
My wedding ring: 19 years and counting!
Small carabiner: Bought when playing hockey and used as a keychain/ lucky charm ever since.
Firefighter Badge: My grandfather's firefighter's badge and number
(sentimental value).
Small ceramic owl: Given to me by my grandmother when I was about four.
Passports: All the passports I have ever been issued, I have somehow managed to hang on to them all and they represent the many travels that, to a great extent, have made me who I am today.
Jade weasel: This small jade weasel I picked up with my wife in an antique shop somewhere, it reminds me of all the places I still have not been to.
Shiva: A small bronze statuette of the goddess Shiva, picked up in Taxila, it reminds me of faraway places and great memories.
Book: The adventures of Captain Mago, a story of a Phoenician expedition. This book has been passed down from my granddad to my dad and now to me, and is one of my all-time favorite books, which I will one day pass on to one of my kids.
Milou: Was given to me by my wife on our first trip to Europe together. It reminds me we need to go back soon.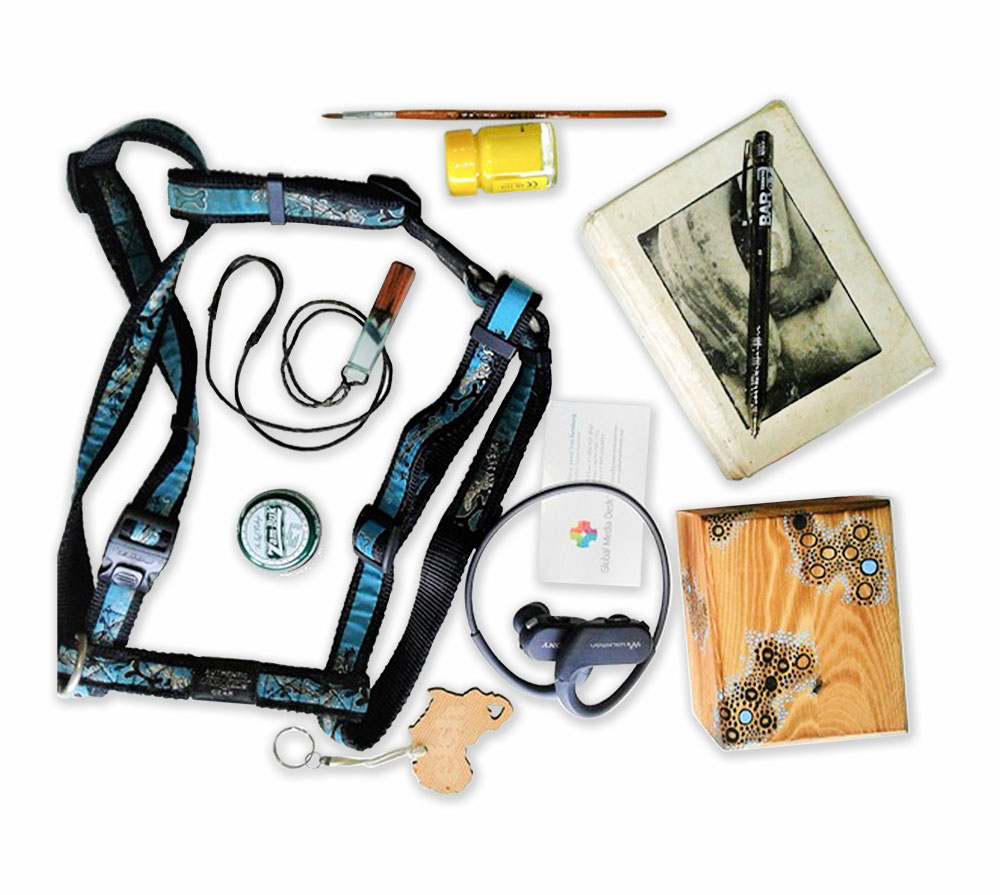 Dave Janse Van Rensburg
Interpreting & Language Specialist
Paint & Brush –I love painting and exploring more of my artistic abilities.
Notebook – I write all my thoughts and ideas down in this notebook.
Wooden Box – This beautiful painted box holds handmade art I love to collect while I travel.
Sony Walkman –I use this for all my sport and outdoor activites.
Necklace– I'm located in Asia and this necklace represents the island lifestyle I love so much.
ZamBuk Lip Balm – This lip balm is from South Africa which I always carry with me.
Dog harness – I enjoy every moment I spend with my dog.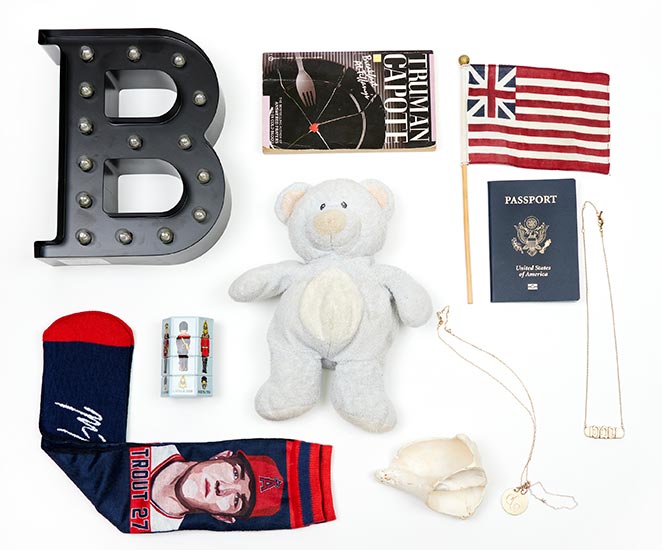 Catherine Beeny
Director of Marketing
B sign: This sits in our living room and is what greets people as they arrive. I like to think it is like me, bright, happy, and in your face!
Breakfast at Tiffanys: My all-time favorite book.
British/American flag: England holds a very special place in my heart. It is where I had some of the best times of my life and also met my husband.
Mike Trout socks: Mike Trout is the absolute best. I have been an Angels fan since I was a little girl. My family would go to the ballpark and we would all shout "Wally" for our favorite player, Wally Joyner.
Teddy Bear: My son has slept with this little bear since he was a baby. My kiddos are my world.
Seashell: The ocean is the place I feel most calm and at home.
Passport: I am addicted to traveling! I wish I could do it more often because I have a huge list of places I still want to visit.
Necklaces: All the things I love are on these necklaces and I wear them close to my heart: my husband and kids' initials and California (my home).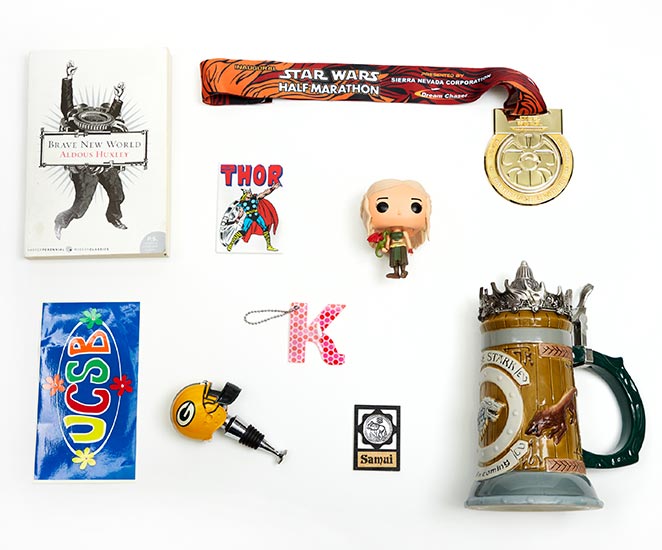 Karen Fahr
Marketing Associate
Brave New World: I read this book in high school and it changed my life. Reminds me that some rules are made to be broken.
Thor magnet: Remember the movie 'Adventures in Babysitting'? Yup, that's when I fell in love with Thor.
Star Wars Half Marathon: Who wants to run a half marathon in a Star Wars costume? This girl!
Daenery's Targaryen Pop!: Taking fandom to a new 'tiny' level.
UCSB: It's where I grew up and found myself! And, I found the love of my life there too – 22 years and counting.
Wine stopper: Go Pack Go! Love my Green Bay Packers.
Key chain: Everyone should love words that start with 'k'
Ko Samui: My brother's family lives in Thailand and it reminds me of home.
Stark Stein: I enjoy the occasional craft beer while watching my favorite show!