January 15, 2020
For most legal professionals, international depositions are uncharted waters that can feel overwhelming and confusing. We completely understand and are ready to help you every step of the way. First, download our free cheat sheet guide on how to schedule deposition services in Japan. This Optima Juris exclusive cheat sheet describes location restrictions for setting up a deposition in Japan and the necessary travel documents.
Cheat Sheet: Schedule hassle-free deposition services in Japan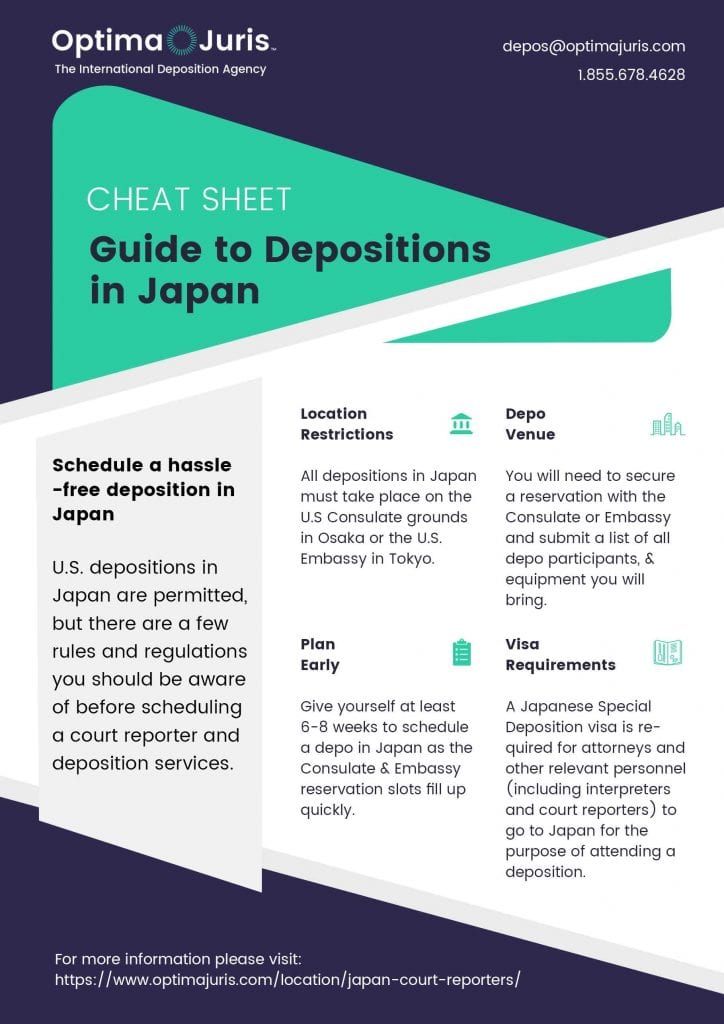 Depositions Allowed in Osaka & Tokyo Only
Though Japan allows international depositions, there are location regulations on where a U.S deposition can actually take place. Depositions can only be taken at the U.S. Consulate grounds in Osaka or U.S. Embassy in Tokyo.
Plan Early
We can't express how important it is to give yourself as much time as possible when scheduling a deposition in Japan. You will need to secure a reservation with the Consulate according to their availability. Due to average waiting time, we suggest planning at least 6-8 weeks. Don't have that much time? We have options! Give us a call or drop us a line we can walk you through the right depositions solutions for your firm.
Japanese Special Deposition Visa
A Japanese Special Deposition visa is required for attorneys and any other relevant attendees (including interpreters, legal videographers and court reporters) to go to Japan for the purpose of attending a deposition.
Consider Taking Your Deposition Outside of Japan
If you are under time constraints and don't have 6-8 weeks, moving your deposition outside of Japan is a good way to expedite matters. Your witness in Japan could travel to a neighboring country where deposition taking is less restrictive. We suggest one of the following U.S. deposition friendly countries like Hong Kong, Taiwan, or Thailand.
Region-based Deposition Services in Japan
The final key factor for a successful deposition is finding the perfect deposition services in Japan. Region-based court reporters, legal videographers, and interpreters mean low travel costs, and provide an expertise that can't be duplicated. It's a win-win situation!
Optima Juris has region-based court reporters in Japan with extensive experience conducting U.S. depositions.  We have been helping law offices across the globe find the highest-quality certified court reporters, legal videographers, and interpreters for over 20 years. If you should have any questions about international depositions, please do not hesitate to contact us or fill out a free quote to see how we can make your international deposition a complete success.
Follow us on social media for news, advice, info, and tips about international court reporters, interpreters, and language services:
Linkedin: https://www.linkedin.com/company/optima-juris
Twitter: https://twitter.com/optimajuris
Facebook: https://www.facebook.com/optimajuris