April 6, 2023
This welcoming island is a perfect destination for a U.S. deposition. There are no restrictions as long as your witness is willing to appear. Here's a quick overview of everything you need to know before planning your deposition or arbitration in Ireland.
Deposition Restrictions. The good news — taking U.S. depositions in Ireland is permissible. If your witness is willing to appear voluntarily at his or her deposition, you can simply conduct the depo by 1) noticing the deponent in advance, and then 2) allowing the court reporter to administer the oath by stipulation of counsel for all parties remotely or in-person.
Depo Venue. Depositions in Ireland can take place at your chosen venue, whether a hotel room, law firm office, or conference room. You may also choose to conduct the deposition remotely. See below for more details.
Plan Early. Give yourself at least 2 weeks to plan. The further you plan, the more likely you'll be able to locate and book the right deposition team for your deposition.
Options: Should the attorney attend the depo in-person or remotely? Although it is always best (and highly recommended) to have all parties present with the witness for the most reliable and clearest record. However, since the onset of the COVID-19 pandemic, remote hearings and depositions have become increasingly common and the most popular way to obtain a verbatim record. We have several different cost-effective approaches for both arbitrations or depositions in Ireland:
Connect Only
A Connect Only Assistant sets up the remote deposition, conducts a test, sends secure invites to all participants, and connects participants to the remote deposition (including subsequent days for multi-day depositions). The Assistant's role includes troubleshooting connectivity issues. Once all are connected, the Assistant turns over the hosting authority to the arbitrator or panel chair.
Hosted
This service includes a Host responsible for the set-up of the remote deposition, including a pre-deposition practice run, testing technology, and connectivity. The Host sends secure invites and connects the participants to the remote deposition (including subsequent days for multi-day depositions). The Host will be present for the entire hearing to assist the arbitrator and parties as needed. This includes real-time technical support and helps with Breakout Rooms.
Hosted + Exhibit Management
The Hosted and Exhibit Management service includes everything in the Hosted Package plus the Host handles all your digital exhibit needs. Your Host manages the gathering and preparation of exhibits from all parties, takes charge of displaying exhibits via screen-share or file-share at the direction of attorneys, and can mark and distribute exhibits after the event as needed. The Host may discuss additional options with you to implement the best exhibit-sharing approach for your needs.
Booking Locally-based Arbitration or Deposition Court Reporters in Ireland. The final key to a successful arbitration or deposition in Ireland is finding the perfect hearing services for your firm. A locally-based court reporter or depo team means little to no travel costs for your firm and clients. Plus, they can provide the expertise that can't be duplicated. It's a win-win situation!
Please contact us, and we would be happy to discuss which solution is best for you based on your requirements and budget!
View or download our super helpful five-step guide on everything you need to know before planning your deposition in Ireland: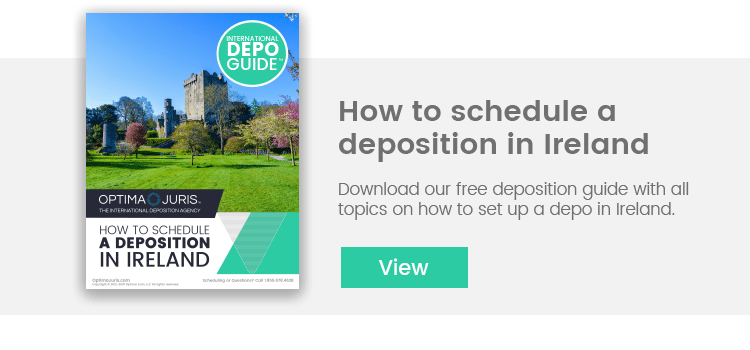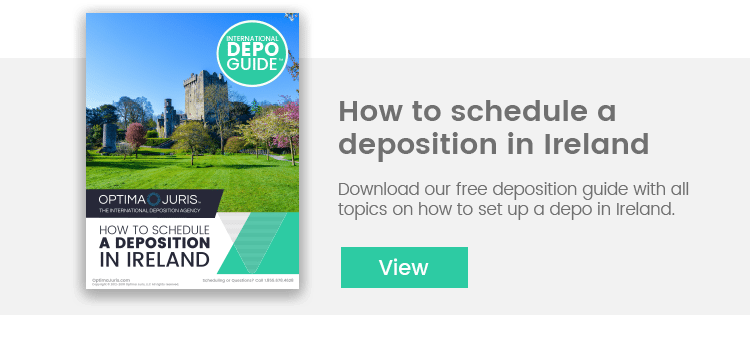 Optima Juris, Leading Deposition & Hearing Services Agency
We have been helping law offices across the globe find the highest-quality certified court reporters, legal videographers, and interpreters for over 23 years. If you should have any questions about international depositions, please do not hesitate to contact us or fill out a free quote to see how we can make your international deposition a complete success.
Originally published on May 22, 2018. We've updated the information to reflect the most current information for scheduling a deposition in Ireland.